To all my dear Friends of Valentines, a message
from your President, Nancy Rosin, February 2023: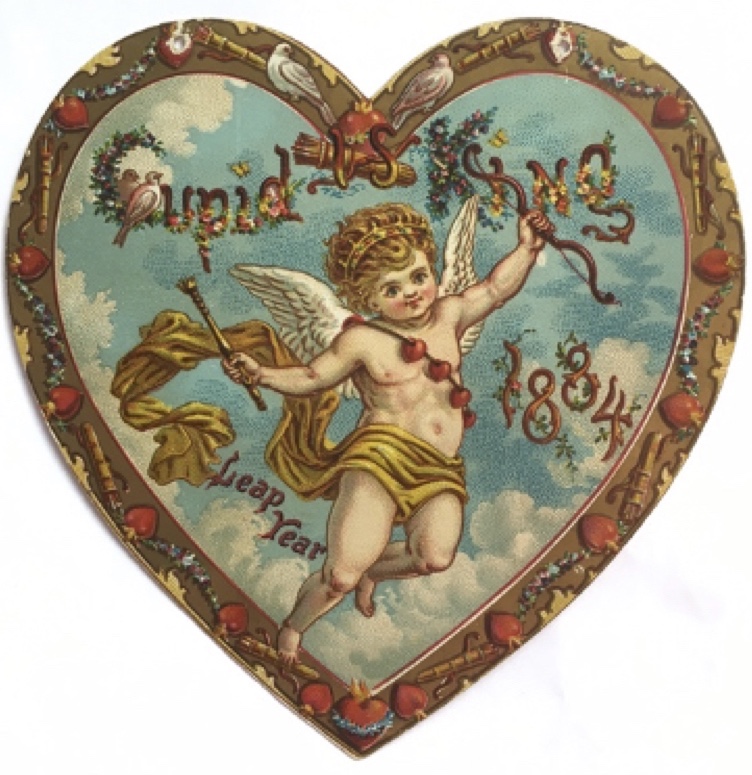 It is a pleasure to welcome visitors to this site, where we share our passionate obsession, The Valentine! As most of you know, we no longer publish a paper Newsletter, but we have a very active Facebook page, with more than 1150 members! I urge you to look at the site, National Valentine Collectors Association, and participate. We also have a sister-site, National Valentine Collectors Association Marketplace, where 350 members participate in buying and selling Valentines. We no longer charge dues, and since there is no longer a quarterly auction, we do allow sales. It has become a fun place, where collectors share the wide range of Valentines, articles, and friendship.
Every fourth year is celebrated as Leap Year, and there are many Leap Year Valentines. I hope you will think about 2024, our next Leap Year, and enjoy the Valentines posted here. Just think, the heart at the top of this page will be 130 years old in 2024!
Past newsletters may be available for $5. each -- Contact me regarding availability.
My own collection has now been placed at the Huntington Library in San Marino, California. It is a formidable institution, with extensive galleries, collections, and gardens. We are working on an exciting exhibition which will take place in a few years -- and I am honored to have my treasures where they are loved and appreciated!
See the New York Times article: Three Centuries of Valentines Offer 12,000 Ways to Say 'I Love You'
For almost fifty years, this Association has been a gathering place for lovers of Valentines and related ephemera. It was begun, and beautifully led, by Evalene Pulati for thirty years, and since then, I have had the pleasure. There is no doubt that it is a beloved group among dedicated collectors -- some have left, others have joined, but it still exists as a resource for all. Having placed my collection, I found it difficult to have the materials at hand to write articles, and I also realize that it may be time for another passionate person to assume the presidency. If anyone reading this is interested, please let me know.
The Facebook page was created as a modern, digital alternative, and it has been incredibly satisfying. Many of our members also participate in other groups -- and share their love and expertise.
A reminder that we have an ongoing Pinterest collaboration with Julie Anne Lambert, Curator of the John Johnson Collection at the Bodleian Library Oxford University, England. There are pages and pages of Valentine reference materials that are an invaluable addition to the study of Valentines.
Our Pinterest site is www.pinterest.com/johnjohnsoncoll/
Additionally, our member and dear friend, Malcolm Warrington, in London, has an absolutely enchanting website, www.ScrapAlbum.com, which is both beautiful and informative.
I encourage you to attend book and paper fairs where several of our dealer/members have Valentines for sale. From the early, rare, expensive to the contemporary and often very inexpensive items, you are sure to find treasures, as well as guidance and expertise. As President Emerita of the Ephemera Society of America, I can especially recommend their dealers, and annual March conference and fair. Information is at www.ephemerasociety.org
Please don't hesitate to contact me -- we have members all around the country who are available for speaking and exhibitions. I invite you to enjoy these pages and wish you a celebration of LOVE every day of the year!
National Valentine Collectors Association on Facebook: https://www.facebook.com/groups/126503137423748/posts/412749768799082/
National Valentine Collectors Association. Marketplace on Facebook: https://www.facebook.com/groups/1411386215859744